CustomEmbroideredPatches
---
What can these patches do?
This kind of custom patches is very versatile. It is no exaggeration to say that Custom Embroidered patches are available for everything. There are various ways to affix it to the surface of fabric. You can sew it on your t-shirt or affixed it with a pin, you can also choose other, more modern ways such as iron-on. You can even treat it as a work of art.For it can highlight the uniqueness of the product in a variety of shapes, colors and sizes, it is impressive for customers to see it at first sight. So, i am sure that an embroidery patch can meet your needs. I recommend the custom patches, at the same time, the most effective way to convey what you want to express.
---
5 steps you need to consider when you order custom embroidered patches.



1: First,you need to choose the size of custom patches.
2: Then,select the percentage of embroidery you would like,such as 50%,75% and 100% Embroidery.
3: Next,you need to consider what's the sahpe of custom embroidered patches you want to.
4: Selceting thread color is very easy,you can refer to our thread card.
5: Finally,You can create proofs using your design or create samples for final approval.
---
How To Make Embroidered Patches?
Custom embroidered patches have rich in history, It originated from the origins of clothing stitches dotted thousands of years ago. In recent years, the popularity of DIY embroidered patches has risen sharply. Let's brief introduce how to make embroidered patches.
They are made by capturing your logo and digitizing your design into a computer-controlled machine. After digitizing, the thread color is loaded into the machine, then becomes embroidered patches. here a few things you need to know when you ready to make patches.



1: What

'

s the embroidery percentage mean?
The GS-JJ.com, our parent company, provide three embroidery percentage, there are 50% ,75% and 100% embroidery for your reference. The fabric of your patches design embroidered you need to consider. the fabric can be as a background color If you want to see the fabric, then your design would classify as 50% or 75% coverage. if you don't want to see any of the backgrounds, you can design 100% coverage.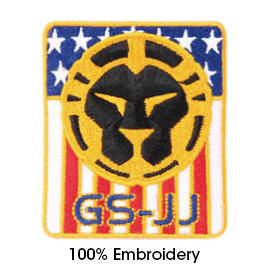 2: How to calculate the size of the embroidered patches?
Length plus width measurement and dividing by 2 is the size of the embroidery: i.e. (length + width) ÷ 2 = size. For example, a 2.5" by 2.5" design is considered a 2.5' patch.
---